About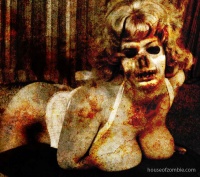 I love Zombies.
…maybe a little too much.
I may be a zombie freak, but if you want information on Zombies — I can totally hook you up.  I have tons of Zombie Links all over this site. I've compiled a bunch of entertaining zombie videos for your enjoyment, and have found the best Zombie Halloween Costumes that will scare the shit out of the neighbor kids.
Better yet — Do you want to take a photo of a loved one and have me do my Zombie Art Magic and make custom made, killer Zombie Art from it?  I can REALLY hook you up there. Check out my Custom Zombie Art Services. Just send me your photo and your desired level of "Zombie-ism" and I'll go to work making you Custom Zombie Art. When I'm done, you'll have a piece of Zombie Art custom made from your photo that is frame-worthy, and very fuckin' scary.
If you'd like to suggest a zombie site, or zombie movie, or anything zombie related, just post a comment below!
I make premium quality, scary-as-hell Zombie Art from your photo. Buy your very own custom Zombie Art today!